HEITON BUCKLEY GOREY PARTNERS WITH SEAL RESCUE IRELAND
Heiton Buckley, Ireland's leading supplier of doors, floors, bathrooms, garden, plumbing and heating products has partnered with Seal Rescue Ireland to help improve its Intensive Care Unit. Seal Rescue Ireland is an organisation dedicated to rescuing orphaned, sick and injured seal pups around Ireland. The organisation nurses them back to health in its dedicated rescue […]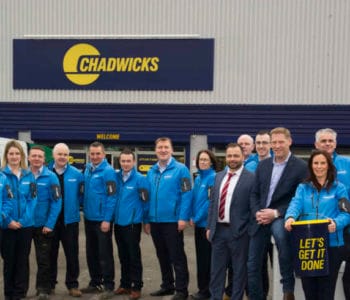 CHADWICKS REVEALS ITS DIY BUCKET LIST
Chadwicks reveals its DIY bucket list 10 DIY jobs to complete before the end of the summer Over half of us have up to six home repair jobs on our to-do list Key findings · Over half have up to six jobs on their DIY to-do list · 39% have something on their DIY […]
CHADWICKS GROUP (FORMERLY GMROI) TAKES ON FOUR PEAKS CHALLENGE FOR FOUR IRISH CHARITIES.
Chadwicks Group (formerly GMROI), Ireland's leading building merchanting company, announced this morning that a team of 22 people from the organisation will take on the Four Peaks Challenge in a bid to raise much needed funds for Focus Ireland, CMRF Crumlin, Pieta House and Cystic Fibrosis Ireland. The four charities selected were chosen by colleagues […]
ARE YOU SUFFERING FROM KITCHEN ENVY?
94% of us are jealous of other people's kitchens Key findings 94% admit to being jealous of a friend or family member's kitchen Over 3 in 4 have vowed to revamp their own kitchen after seeing someone else's kitchen Over half spend most of their time in the kitchen when at home 80% are unhappy […]
RENOVATION, RENOVATION, RENOVATION
Top tips on planning your home renovation this summer With property prices on the rise, many people are looking at revamping their current home rather than making the move to a bigger place. According to figures released by the Construction Industry Federation (CIF) in March 107,386 home improvement projects have been carried out via the […]
TARA BRENNAN APPOINTED AS HEAD OF MARKETING & DEVELOPMENT AT CHADWICKS GROUP (FORMERLY GMROI)
Tara Brennan has been appointed as Head of Marketing & Development at Chadwicks Group (formerly GMROI), Ireland's leading building merchanting company. In her new role, Tara will be responsible for marketing & communications strategy and customer experience across all Chadwicks Group (formerly GMROI) brands which include Chadwicks, Heiton Buckley and The Panelling Centre. Working as […]
SpeakUp is our reporting service for colleagues and anyone (e.g. customers or suppliers) connected to Chadwicks Group (part of Grafton Group) to report concerns. This action, is also commonly known as 'whistleblowing'. If you ever see something in your interaction with Chadwicks Group that could be deemed unsafe, unethical or unscrupulous, please SpeakUp! We take concerns given in good faith very seriously and will not tolerate retaliation of any kind to anyone who reports such instances.
You can raise your concerns through the dedicated SpeakUp website here.
Please note that this service is not to be used for customer service enquiries or issues. Please contact your local Chadwicks Group branch for such enquiries.
CONNECT WITH US ON