Chadwicks Unveils Newly Rename And Refurbished Castlebar Branch
Chadwicks today announced that Heiton Buckley Castlebar in Castlebar Industrial Estate, Moneen has been rebranded to Chadwicks Castlebar.
Chadwicks Group Celebrates 200 Years Of The Irish Home
The report by Ireland's leading building merchanting company, Chadwicks Group, into the changing tastes, décor and trends within the Irish home over the last 200 years was launched today.
Chadwicks Launches New Fixing Centre
Chadwicks, Ireland's leading building merchanting company today officially launched the Chadwicks Fixing Centre at Thomas Street, Dublin 8.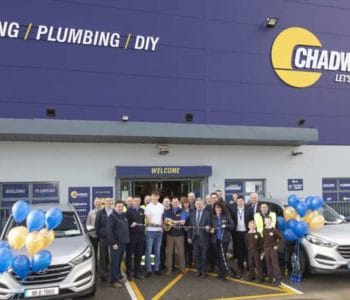 Chadwicks Unveils Refurbished Tralee Branch
Kerry GAA star David Clifford was guest of honour on the day. Chadwicks has announced that Heiton Buckley in the Clash Industrial Estate, Tralee has been rebranded to Chadwicks.
Sandra O'Halloran Q&A
Read our interview with our Chadwicks colleague Sarah O'Halloran. Learn about her Chadiwicks journey, how she applied originally and what roles she has had during her time with us.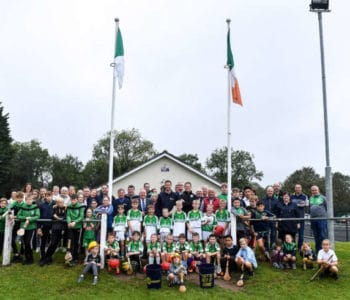 Chadwicks Kit Out Competition Winner Revealed
Kilmacow GAA Club in Kilkenny has been named the overall winner of the inaugural Chadwicks Kit Out Competition. In total 237 clubs across Leinster entered the competition with 12 county winners selected
Grafton Merchanting Roi Rebrands to Chadwicks Group
Grafton Merchanting ROI, Ireland's leading building merchanting company today announced it is rebranding to Chadwicks Group as part of a €5m investment programme in the business.
Chadwicks to Sponsor the Leinster Gaa Chadwicks Club Hurling League
Chadwicks and Leinster GAA have today announced details of a partnership that will us become the new sponsor of the Leinster GAA Chadwicks Club Hurling League.
Chadwicks Group (Formerly GMROI) Rises to the Challenge for Charity
Chadwicks Group (formerly GMROI), Ireland's leading building merchanting company, is thrilled to announce that it has raised €68,456.10 in vital funds for four Irish charities.
ST. CIARÁN'S STUDENTS IN KELLS CROWNED CHADWICKS CHAMPIONS
St. Ciarán's Students in Kells Crowned Chadwicks Champions Kevin Carpenter, Tommy Brady and Carl McGovern from Kells in Co. Meath have been crowned champions of the first Chadwicks Pet Home Competition. To celebrate the new and improved Chadwicks Navan branch, Chadwicks called on the future architects, builders and designers from the local area to go […]
SpeakUp is our reporting service for colleagues and anyone (e.g. customers or suppliers) connected to Chadwicks Group (part of Grafton Group) to report concerns. This action, is also commonly known as 'whistleblowing'. If you ever see something in your interaction with Chadwicks Group that could be deemed unsafe, unethical or unscrupulous, please SpeakUp! We take concerns given in good faith very seriously and will not tolerate retaliation of any kind to anyone who reports such instances.
You can raise your concerns through the dedicated SpeakUp website here.
Please note that this service is not to be used for customer service enquiries or issues. Please contact your local Chadwicks Group branch for such enquiries.
CONNECT WITH US ON