Heiton Buckley unveils refurbishment and rebrand to Chadwicks Robinhood Road
Chadwicks Robinhood Road opens after a full revamp as part of Chadwicks Group's ongoing nationwide branch upgrade
New ECO Centre will provide the trade with expert product advice on the latest sustainable building materials

A Fixing Centre has been introduced to provide builders, engineers, and specialist tradespeople with all the tools and materials they need to get the job done in one convenient location

Irish boxing champion and Chadwicks ambassador Jack Marley kicks off celebrations at relaunch of Robinhood Road branch
Chadwicks Group, Ireland's leading builders' merchants, has announced that Heiton Buckley on Robinhood Road has changed its name to Chadwicks Robinhood Road, becoming the largest Chadwicks branch.
This announcement is part of an ongoing nationwide rebrand and upgrade programme by Chadwicks Group which commenced in 2018.
Chadwicks Robinhood Road has been serving the needs of local tradespeople and the wider community for 55 years. While there are changes and enhancements to the branch, the team remains the same. Customers can expect the same expert product knowledge and best in class customer service, they have come to enjoy from the Robinhood road branch. The 48-strong team of highly trained specialists remains the same, with some colleagues being part of the team for over 40 years!
Customer-focused design
At over 10,500 square feet, the new look branch has been designed with the customer in mind, featuring over 2,000 new products for the trade. New additions include a showroom, paving and decking area, new lines of workwear, Baumit external wall insulation display, Velux Centre, Brick Centre and an increased power tool range.
A new catering van has also been introduced onsite, welcoming customers to meet and refuel together while in branch.
New ECO Centre – Sustainability at the forefront
A key feature of the upgraded Robinhood Road branch is the Chadwicks ECO Centre which will provide local customers with trustworthy and expert advice on the latest sustainable building products. As members of the Irish Green Building Council, Chadwicks aims to support customers in reducing their environmental impact using sustainable building solutions.
The ECO Centre features the latest and greatest materials for all sustainable building needs including insulation, airtightness, ventilation systems, heat pumps and controls, solar energy and water-saving products.
The Fixing Centre
Chadwicks Robinhood Road also features a new Fixing Centre, a "store within a store" concept which aims to provide builders, engineers, and specialist tradespeople with all the tools and materials they may need in one convenient location.  The Fixing Centre offers a host of fixing materials which includes setting chemicals, concrete anchors, nuts, bolts, nails, and fixings, perfectly suited for any trade job.  As well as having a substantial range in stock, customers can also order specialised fixings through the dedicated team comprised of fixing and tool specialists.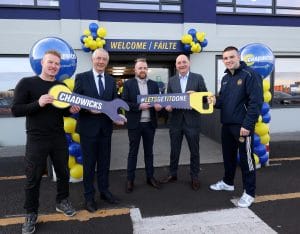 Speaking at the opening of the new look branch, Chadwicks Group ambassador and Irish boxing champion, Jack Marley, said:
"As a Chadwicks Group ambassador, I am delighted to celebrate the opening of the newly upgraded Robinhood Road branch. I am a strong believer in community and knowing that this branch was established 55 years ago with some team members serving the needs of Clondalkin locals for over 40 years is really special. It is great to be able to kick off the celebrations today, and I look forward to having a chat with the team to learn about the latest sustainable building products featured in the newly introduced ECO Centre."

Ross O'Connor, Chadwicks Robinhood Road Branch Manager, said:
"We are delighted to officially unveil our newly revamped branch. The Chadwicks Robinhood Road team has been part of the Clondalkin community since 1968 and we are proud to serve all DIY enthusiasts and tradespeople in the area. The new-look branch has been designed with our customer in mind, and visitors can expect an expanded product range including the latest in sustainable building and fixing solutions alongside a seamless shopping experience. Colleagues who have been working at the branch for over 40 years are excited to welcome customers to our newly upgraded branch and continue to offer the best-in-class customer service they have come to enjoy."