St. Anne's City Farm is a community-led city farm in St. Anne's Park in Raheny. The city farm is a small scale, not for profit farm, run by a committed band of more than 20 volunteers who live locally. The farm gives children and adults an opportunity to learn about raising animals, growing food and seeing other farm-based activities in an urban setting.
The wonderful volunteers at St Anne's City Farm reached out to Chadwicks to inform us of their exciting venture, the building of a new rabbit house for the farm's rabbits and guinea pigs, of which we/ the Chadwicks team were delighted to get involved. The aim of the new rabbit house was to let visitors engage and interact with these very special animals and to free up space in stables for more beloved animals.
The volunteers set out in the midst of October to build this much-needed house for their furry friends. Chadwicks were delighted to provide building material to get the job done!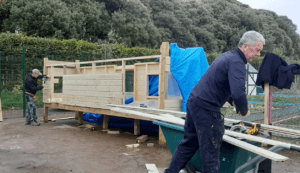 On the 13th of December 2020, St Anne's City Farm launched the lovely Bunny House. The Bunny House, painted in Chadwick's blue and yellow, is now home to its new furry tenants, just in time for Christmas! We were delighted to be a part of such a fantastic community initiative to bring people together and learn about these farm animals.
To visit and learn more about St Anne's City Farm, visit their Facebook page.
The farm is free, and no booking is required. Please check social media for daily updates.
Please note, the farm is open limited hours at the moment because COVID 19.
Thank you to St Anne's City Farm for allowing us to be a part of this wonderful community city farm.